3 Steps to get out of Overwhelm
Support The Counter-Narrative
As a mother, wife, business owner and MBA candidate I have become quite familiar with overwhelm. I come up with ideas and ways to overwhelm myself pretty regularly. While there is nothing wrong with having a productive life, it gets less productive when overwhelm leads to a sort of analysis paralysis. It is also important that we do not mistake activity for progress. If we stay in overwhelm too long we could be actively running in place. I want to share with you my personal strategy for getting out of overwhelm. 
Let's start by identifying what overwhelm actually is. Overwhelm is a result of under planning and under focus. We want to chop down the forest but we don't have a saw and what's even more daunting is that we are trying to chop down all the trees at one time. 
The quickest most sure-fire way to get out of overwhelm is to follow this 3 Step Formula.
Preparation:

Preparation is a practical yet divine tool.  Groundwork not only sets you up for your next best move it actively sets the intention in the direction you wish to go. Your readiness expresses an expectation for things to come. I believe the best way to predict your future is to co-create it. You activate your intentions when you move in the direction with expectancy. If you say you want to start a nonprofit yet you have not filed paperwork or you have not set up an account for the organization you have not set a true intention. You simply made a statement. Plan, Prepare and Train for what you are moving toward. A clear plan outlines where you are, where you want to be and how to get there. This needs to be done one step at a time.

Focus: Don't try to take on the whole world all at one time. Breakdown movements into quarterly, monthly and in some cases even weekly increments.  Plan for the very next step before you plan for the 7th step.  Clear your head space and give attention to your most immediate task. If you are constantly in the future or dwelling on the past you are clueless about what to do RIGHT NOW. In this very moment…You may very well have a big vision; but that vision will soon get blurred if you don't get things into focus.  Remember you have already organized a plan to handle those other steps and they will get taken care of when their time comes. All the focus you spread out across other tasks takes away from the one you are doing now. Treat every step as important as the one that came before it and the one that came after. Remember they all build on each other.
Action: What good is a clear plan if it is not followed by action? The 2 primary culprits of well-intentioned visionaries that do not take action are:

Perfection Paralysis: I have experienced perfection paralysis where I felt I needed a plan for the plan of the plan. Then I needed to analyze the plan and rework the plan and I did so much planning I either delayed action until it was too late or took no action at all. I don't want this for you.
Indecisiveness: Another thing that keeps us from taking action is feeling like we don't know the 'best' next step. So we never make a decision.  Start taking decisive action. If you make a mistake give yourself a congratulations and a high-five you are progression.
Both are rooted in a form of fear. Fear of making a mistake, fear of being wrong. I know because I've been there….But here's what I say to myself when that time comes."Stop trying to be so darn perfect all the time! You act like you've never made a mistake before. Quit your wining and get moving!" and you know what?! It actually works. All that to say Prepare for your future get focused on your next best move and do not be afraid to take deliberate action and get out of overwhelm so you can Be More, Help More and Give More.
What do you typically do when you get overwhelmed?
Your Sister in the Journey,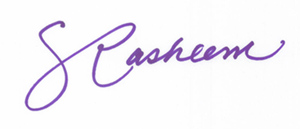 Comments
comments
Posted by Rasheem on Monday, October 27th, 2014 @ 8:14AM
Categories: Personal Note, Uncategorized
Tags: Coping Self-Help, Overwhelm, Personal Development, Stress