Yesterday I celebrated 9 years of Motherhood
Support The Counter-Narrative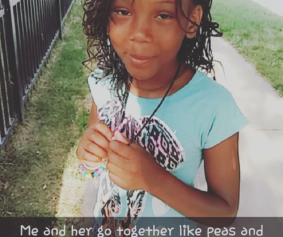 Yesterday I celebrated 9 years of motherhood of having the distinct privilege of guiding my daughter on her journey to becoming. It reminded me that as she is becoming so am I. Just like she's never been 9 years old before. I've never been the mother of a 9 year old little brown girl before. So as this process continues we'll figure it out together and we'll have to be patient with each other.
Because, much like you I play many roles.  I'm not just her mother, I'm a mother to her older brother, a wife and a PhD student. In fact, right before the party I was working on my dissertation research reading about 'Hermeneutic Phenomenology (Don't worry I won't bore you with the details)   But this combination of roles just further reminded me of why as a PhD candidate I've decided to focus my research on Black Mothers telling their truth and sharing their lived experiences in their own words.
I am reaching out to ask if you or someone you know would be willing to participate in the movement by sharing your lived-experiences with motherhood. It's easy to participate, simply complete a short  short 3 minute online survey and schedule a phone interview. The research is called "Exploring Black Motherhood Through Race, Class, and Gender ".
The purpose of this study is  to learn directly from the lived experiences of Black mothers.
It is my hope that this study will shed more light on an understudied area of motherhood from the perspectives of Black Women. Additionally, it is my hope that this study will demonstrate the importance of, and the need for more Black women to  have a seat at the table when social policy is developed that impact our families and communities. Can I count on your support in telling our stories? If so please click the following link to complete the short online survey.
or copy/paste this in the url:      https://goo.gl/forms/GFQuVEqlYVRw9j1k1
Warmly,
s. Rasheem

---
Comments
comments
Posted by Rasheem on Wednesday, December 14th, 2016 @ 2:13PM
Categories: Black Womanist Epistemology, Personal Note
Tags: black feminist thought, black motherhood, Black Womanist Epistemology, blackmotherhood, phenomenology, Social Science