My "long overdue" Luke Cage Review
Support The Counter-Narrative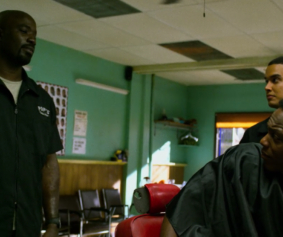 I am thoroughly pleased and excited about Netflix's introducing "Luke Cage" into the Marvel cinematic universe. This series stars Mike Coulter. (Can I just pause and be a total girl for a moment and say Yaaaaassssss!!!! Serving all kinds of #BlackManMagic… (and if that is not a thing it should be).
Ok, so Luke Cage is MARVEL, but MARVEL if MARVEL was your homeboy or a play cousin you grew up with in the neighborhood who stayed the night at your house and called your mom "ma" or "Auntie so and so" That's the kind of MARVEL he is.
Outside of the fact that the show is astatically pleasing, the culture references to music, art and Black literature and ways of expression serves us up a bit of what's been missing in Super Hero Cinema.
This is not your average Marvel Super Hero in so many ways. First, let me give my disclaimer and say I did not grow up reading the comic books. I've only seen MARVEL movies and watched MARVEL shows. Compared to the people who grew up reading comic books from elementary and high school I'm a relatively new fan. The thing that draws me in is not nostalgia, but it's similarities to Greek Mythology of which I am a fan. There may be some who have been familiar with Luke Cage's character when he first appeared in MARVEL comics in the early 1970s. What I can't tell you is how closely it stays true to the original comics. I read that there are over 700 MARVEL characters, which begs the question why exactly are there so many repeats of the same 9 characters' stories in the Marvel Cinematic Universe. From what I have seen, MARVEL's Luke Cage is a breath of fresh air that adds flava, swag, culture and depth, something I don't get a whole lot of with Marvel.
MARVEL-esk Themes
Costume: Sure, the show has your typical Good Guy vs. Goons dynamic, but Luke Cage is not your average cape wearing, flying superhero, in fact, he doesn't wear a costume at all.

Motivations: Instead of being haunted by the grief of the loss of one or more of his parents (like, Batman, Super Man, Spider Man and Black Panther) he is haunted by the loss of his Sweetheart, Riva and a father-like figure who everyone in the neighborhood lovingly refers to as Pops.  Origin of Strength: Similar to Captain America and Wolverine, and many other Marvel superheroes, Luke Cage was a government funded experiment. His experiment was done by a racist prison guard (as noted by the prison guards partner in episode 10)
Contemporary Luke Cage:
Let's talk about the political relevance of having a Black Man who is bulletproof in the age of #BlackLivesMatter when more attention is being given to state-sanctioned violence that is enacted on unarmed Black men. Luke Cage is a Black Man in America with a criminal record who lives in the hood and wears a hoodie on a regular basis. In so many ways Luke Cage character is timely, relevant, and symbolic.  I couldn't help but think what if Trayvon Martin would've been bulletproof.
Themes of Legacy, Black Culture, and Respect
Luke Cage's (aka Carl Lucas) character is a humble, well-read, former law officer, returning citizen who was wrongly convicted. He is liked by virtually everyone in his community (from my understanding this was not completely his character in the comic book). He's originally from Atlanta Georgia and now resides in Harlem, NY. He is also gorgeous and charming, oh and did I mention the brotha is bulletproof? Hell, even if  he wasn't bulletproof…..( *** I'm just gonna let you know I typed something that I figured I should probably delete in the event that someone actually took the time to read this… but you knooooowww***) Unlike his other MARVEL counterparts, he does not want to be a hero but is persuaded, encouraged and even coerced by people in his neighborhood to beat up bad guys and protect the community.
After being attacked in prison he was beaten within inches of his life. The prison doctor, upon the request of Riva, (the prison theraplist) saved his life with an experimental treatment that made him super human. In the comic book, Riva plays a different role. She doesn't meet him in prison. She is actually the object of a rival between Cage and Stricker (Cage's half brother).
Luke's grandfather was a Red Tail Tuskegee airman and his father was a preacher.  He changed his name from Carl Lucas Cage to Luke after a Bible verse his father would share with him. Luke 4:18King James Version (KJV)
18 The Spirit of the Lord is upon me because he hath anointed me to preach the gospel to the poor; he hath sent me to heal the brokenhearted, to preach deliverance to the captives, and recovering of sight to the blind, to set at liberty them that are bruised,
I Appreciate Luke Cage for everything he's not.
He's not like the same characters who have been put on a continuous cycle. Luke Cage is not backed by a secret government agency like the members of Avengers. He is not a member of an institution like Xavier's School for Gifted Youngsters like the Xmen. He was not born into wealth like Batman, nor does he a demigod like Thor or Superman. He also doesn't have a fantastical name like Superman, Batman, Spider-Man, Iron Man, Ant-Man, Black Panther, Black Widow, Thor or any of the other Superhero sounding names.
This show has all of the B's: Books, Bibles, Barbershops, Basketball, Beats and Black PeopleJust a few of the books and authors mentioned or even were,
Walter Mosley (Luke Cage was holding this book in one of the openings and closing scenes in Season 1 episode 2) Invisible Man shows up in episode 7 when LC is packing.
The Barbershops look like some of the ones that I have passed through in Baltimore where men did more than cut hair. They play chess, talk sports, history, share philosophical views and neighborhood politics. I wish that the actors in the show actually looked as though they had just received a haircut when they get up out of the barber's chair.
The Music goes beyond Beats. The soundtrack to this show is so deliciously flavorful ad rich. The show has everything from rap, gospel to R& B and plenty of Jazz.
The Jazz by Cristo Redentor – Donald Byrd (Season 1 Episode 2)

Think Deep – Coleman Hawkins

Wutang Clan

Long Live the Chief –

Jidenna

ep.5 was Fiyah

Long Live the Chief –

Jidenna
Thank you Netflix
I am an avid Netflixer (is that even a thing?) who binge watches shows. This is the first show where I really wanted to take my time (like a good book) for fear that the end would come too soon. I assume that Netflix influenced the production and delivery of the story in a huge way. If that is true I say thank you Netflix and smart move. I also like how Luke Cage was introduced in Jessica Jones. It provided a great lead into the character for newbies.
Rated Next
The show also introduces Misty Night (Black Woman supershero). I hope to not only see more of Luke Cage but also Black Panther, Spectrum (Black Woman), Gentle and Isaiah Bradley (chronologically the first Captain America).
Comments
comments
Posted by Rasheem on Wednesday, May 31st, 2017 @ 5:16PM
Categories: Review
Tags: comic books, comics, luke cage, marvel, netflix, show review, super hero