Yes, I have Breast
Support The Counter-Narrative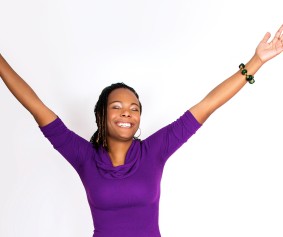 And I don't care that you noticed….
WARNING: I'm about to RANT…
Recently I LIVED streamed a video session on Periscope. I shared information on organizational development. Just as I was breaking down the best tips and strategies and how to avoid costly mistakes, a young man typed in the chat:
"How you gonna try and be professional when your chest is showing." To which I let him know I wasn't TRYING to be anyone other than who I am. He responded with " "Your chest is distracting me." To men/ people like this young man, here's what I say:
How about we stop making being professional about dressing a part, playing a role or behaving in ways that fit within the politics of respectability?

How about we make professionalism about skill mastery, authenticity and style.

How about we stop asking people to be different so that we feel comfortable?
I have breast and most of the time I'm happy with the way I look and I appreciate my body and it doesn't detract from my intelligence.   So don't ever ask me (or any woman for that matter) to dim my light. I have more than enough body image issues of my own without adding you to my thought process.
When I get up in the morning to wear clothes I'm not doing it with you in mind. I'm doing it with me in mind. As an adult I decided that my opinion of how I look and feel in clothes is more important to me than what you think of how I look.
I feel its imperative to share this to challenge the unquestioned authority that some people may feel that they have over other women's bodies.
So, Yes, I do have breast Sir, and you have no agency over them or me.
Comments
comments
Posted by Rasheem on Wednesday, July 6th, 2016 @ 8:00AM
Categories: Black Womanist Epistemology